Selling your home can be overwhelming and choosing the right real estate agent to list your property with can be even more difficult. However, when you choose to list your home with the Amy McCafferty Team, you can be confident that you have made the right decision.

The team, led by Amy McCafferty, has a wealth of knowledge and 25+ years of experience when it comes to buying and selling homes in Silicon Valley—we are dedicated to making the process as stress-free and successful as possible for our clients. In this blog post, we will be discussing the benefits of listing your Silicon Valley home for sale with the Amy McCafferty Team and how we can help you achieve your real estate goals.
Amy McCafferty and Sotheby's International Realty CEO, Philip White

Proven Success and Local Expertise
When you list your home with the Amy McCafferty Team, you will benefit from our team's local expertise and proven success in selling Silicon Valley real estate. We are a group of Silicon Valley natives that are in-tune with our local market and can provide valuable insights and advice on everything from pricing and timing to neighborhood trends and market conditions.
With over 25+ years of experience in the industry, Amy McCafferty has proven to be one of the most prominent and top-producing agents in the nation, achieving nearly $1 billion in sales volume. Amy consistently ranks in the Top 1% of all agents in the Bay Area, Top 0.1% agents nationwide, and Top 100 agents of all 26,000+ Sotheby's International Realty agents worldwide. Throughout her career, she has helped over 850+ happy homeowners and received countless positive testimonials.
Over the years, we have developed, streamlined, and proven our systems and processes and are ready to help you prepare, market, and position your Silicon Valley home for sale!
Luxury Service at All Price Points

At the Amy McCafferty Team, we take pride in providing exceptional customer service to our clients. We understand that selling your home is a big decision and we want to make sure that you feel comfortable and confident every step of the way. Our goal is to make the home selling process as stress-free and seamless as possible.
Our team is extremely detail-oriented, we pay close attention to ensure that every aspect of the home selling process is taken care of—from helping you complete the required set of seller disclosures to scheduling and coordinating all repairs, inspections, and buyer showings.
We make it a priority to keep our clients informed throughout the entire process. Our team will always be available to answer your questions and provide you with regular updates on the progress of your sale.
As native Silicon Valley residents, we understand the intricacies of the many locations and neighborhoods that Silicon Valley has to offer. Our team strongly believes that all our clients deserve luxury service for their property sale at every price point. We market investment properties, condominiums, land and investment properties as well as luxury estates. We go the extra mile and provide the same level of high-quality service and care to all our clients.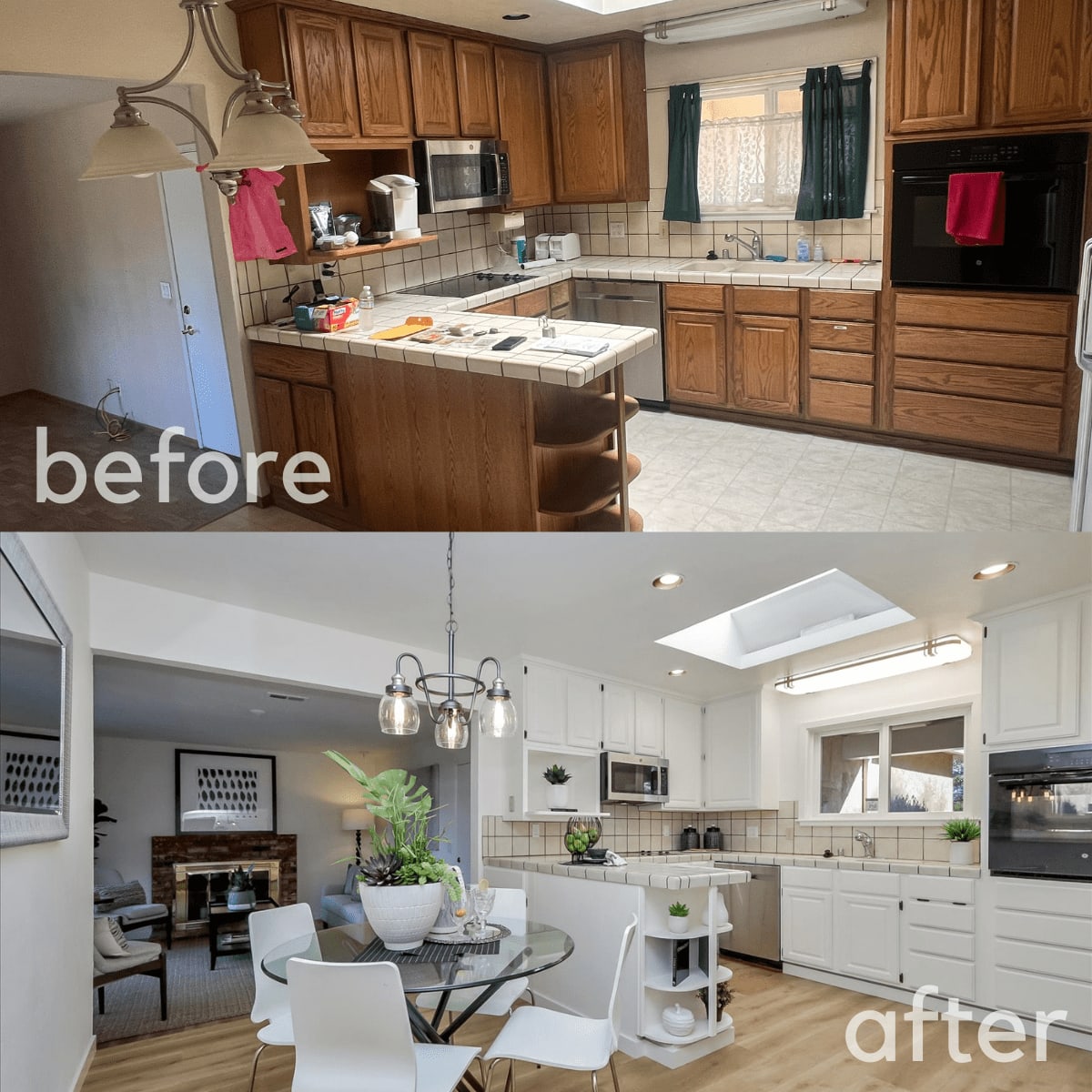 Extensive Network of Contacts
The Amy McCafferty Team has built a reputation for excellence in the Silicon Valley real estate market over the past 25+ years. We've attributed a critical part of this success to our strong working relationships with professional vendors and trades.
From the very beginning, we have made it a priority to establish and maintain relationships with the best vendors and trades in Silicon Valley. This includes everything from home inspectors and contractors, to painters, stagers, and landscapers. By building these relationships, we have been able to ensure that our clients receive the highest level of service and quality work. Since we frequently provide our vendors with a constant flow of work, we often receive competitive pricing that we pass on to you. We do not add a markup to the costs and work with you to ensure you get the best value for your investment as we manage the project from start to finish.
Our team is very hands-on and will provide you with the best improvement recommendations. Our goal is to make changes that will improve the marketability of your home and maximize your return. We are happy to provide our suggestions for paint, flooring, and lighting fixtures. We handle all aspects of the process for our sellers, from gathering quotes to scheduling and managing the work. Our team and list of trusted vendors are ready to get to work for you!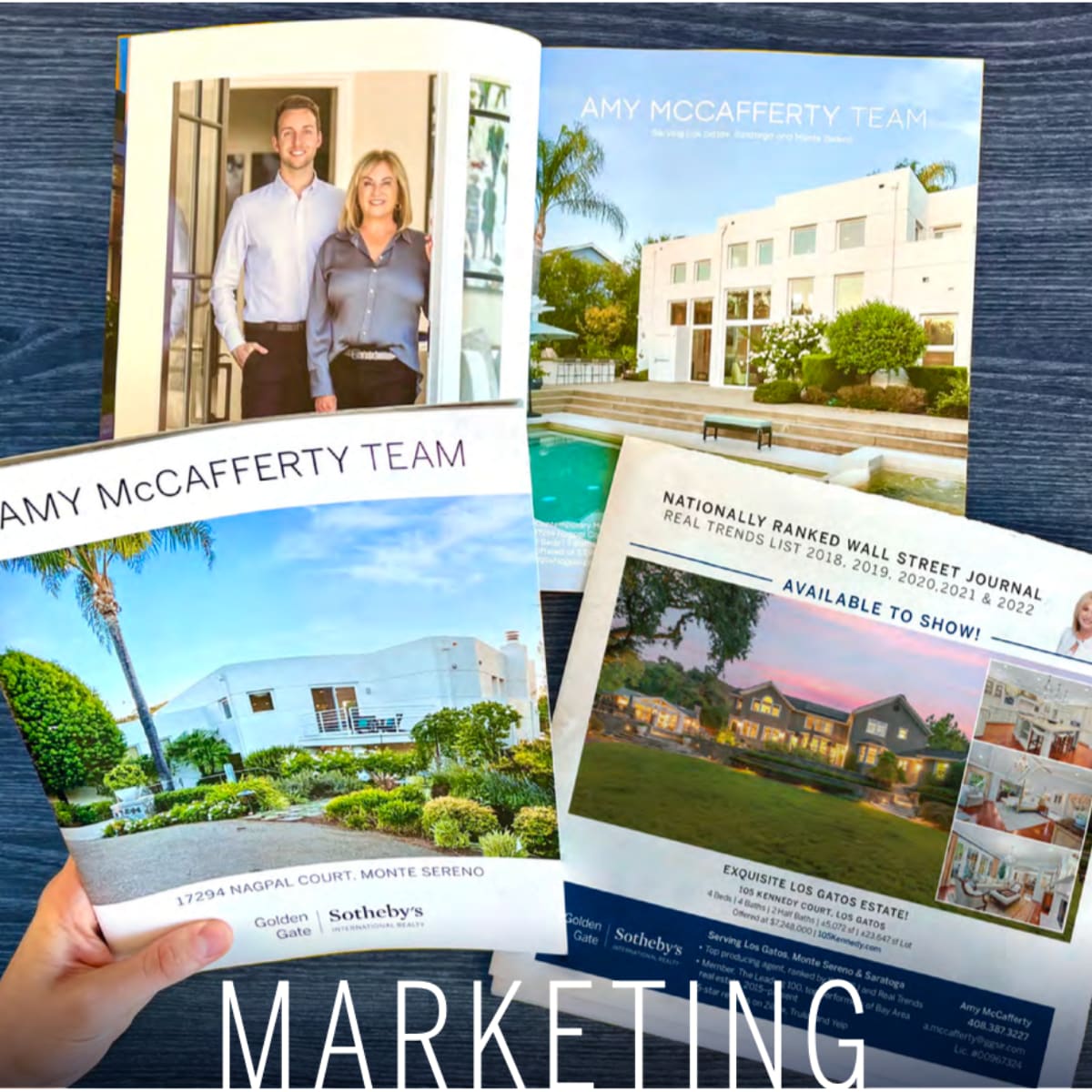 Top-Notch Marketing
When it comes to selling your home, it's important to have a marketing strategy that is tailored to your specific property. At the Amy McCafferty Team, we understand that every home is unique and that's why we take the time to get to know you and your home before we even start the selling process. With your home's distinctive features in mind, we develop and implement a personalized marketing plan that ensures that your property stands out in today's competitive real estate market.
Our team takes a comprehensive and high-quality approach when it comes to our marketing efforts. We understand that most buyers start their home search online so we make sure that your home is well-presented and receives maximum visibility. To do this, we work with professional vendors, tradespeople, stagers, and cleaners to ensure that your home is picture-perfect and ready to hit the market. Our team carefully composes professional and tailored advertising copy and works closely with trusted photographers and videographers to capture your home in the best light possible. We use 3D virtual Matterport tours to provide buyers with the most realistic sense of actually walking through your property online. We post this marketing collateral on our social media channels, send an email blast to all local agents and our sphere of influence, and use this when listing your home on the Multiple Listing Service (MLS). Once the listing is launched on the MLS, your home is syndicated to all major real estate websites such as Zillow, Redfin, and Realtor.com.
In addition to online marketing, we also leverage local and regional marketing methods. We provide agents and buyers with opportunities to experience your home in-person by holding open houses and a broker tour. Our team designs, prints, and distributes a high-quality, multi-page cardstock brochure. We advertise your listing on our pages in the Los Gatos Weekly and Saratoga News. Our team understands that different buyers have different preferences and we want to make sure that your home is seen by as many potential buyers as possible.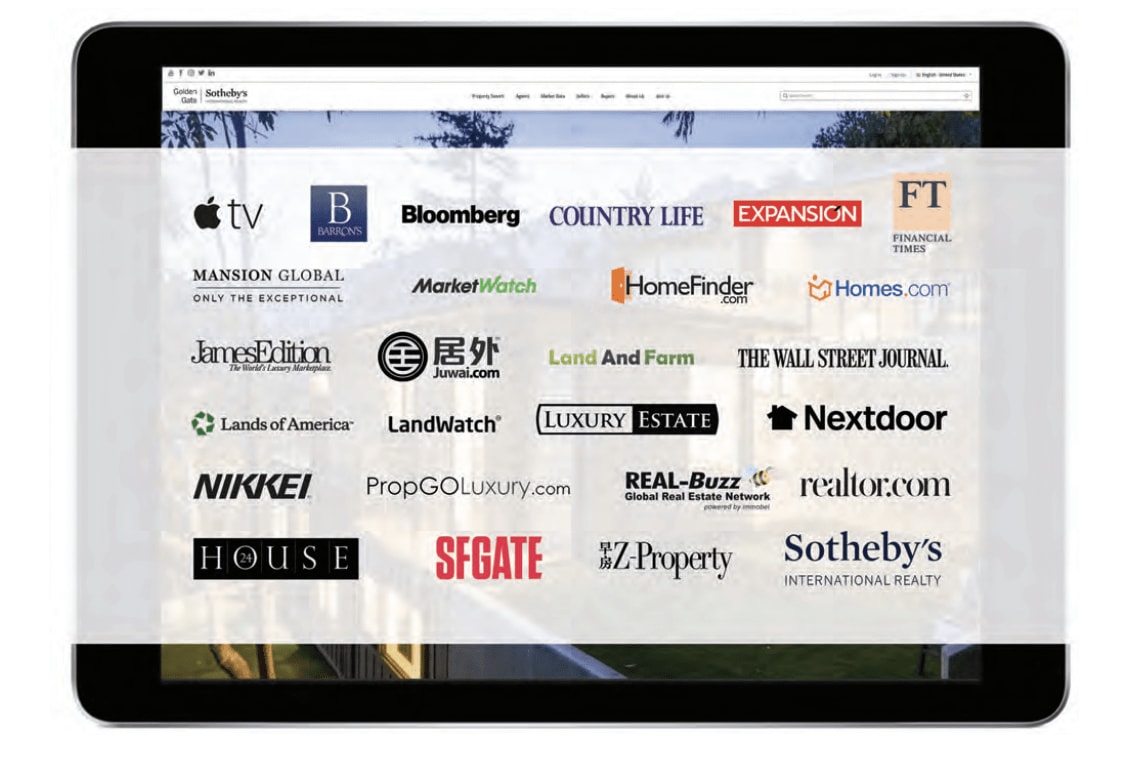 Global Reach
Listing your home with the Amy McCafferty Team means receiving the support and backing of a reputable and well-respected global brokerage, Sotheby's International Realty. The Sotheby's International Realty brand has formed strategic partners with some of the most reputable media companies and real estate-focused websites worldwide such as Juwai (China) and Country Life (Europe). Your listing receives worldwide exposure through the power of these partnerships. Annually, Sotheby's International Realty listings receive an impressive 190,000,000 views on all our partner platforms.
Strong Negotiating Skills
When selling your Silicon Valley home, it's essential to have a team of experts on your side who can guide you through the process. The Amy McCafferty Team is renowned for our ability to negotiate on behalf of our clients. We are a group of experienced and dedicated real estate professionals who specialize in helping sellers in Silicon Valley achieve their real estate goals.
One of our key strengths is our ability to plan and strategize. We take a thorough and comprehensive approach to selling your home, starting with a detailed analysis of your home's location, condition, and features compared to recently sold comparables and the current inventory of homes for sale. In addition, our team also understands the importance of timing in the real estate market. We will work with you to find the best time to list your home. All of this preparation allows us to price and position your home competitively to generate interest and attract qualified buyers. Once we secure an offer, we will work closely with you to negotiate the best possible sales price and terms, always keeping your goals and best interests in mind.
If you're looking to sell your home in Silicon Valley, the Amy McCafferty Team is the team for you. We are expert planners and negotiators who will work tirelessly to ensure that you get the best possible outcome.

Contact the Amy McCafferty Team today!
Working with the Amy McCafferty Team can help make buying or selling a home a stress-free and enjoyable experience. With our local expertise, top-notch marketing, strong negotiating skills, and personalized service, we are the best choice for anyone looking to sell a home in Silicon Valley. Contact us today and see how we can help you achieve your real estate goals.